Ductless Minisplit Heat Pumps in Portland
The Daikin Special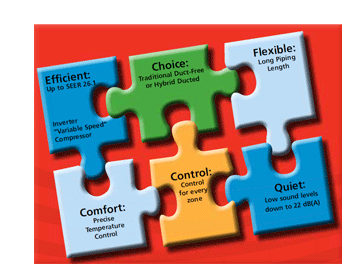 Revolutionary technology for precise temperature control that constantly readjusts itself to the environment and changing occupancy.
Absolute Comfort® — now available at every stage. Along with their technological and aesthetic sophistication, Daikin systems are backed by one of the best warranties n the industry.
All Daikin AC systems employ inverter "variable speed" compressors and non-ozone depletion potential R-410A refrigerant, also optimizing energy conservation.
Advanced Multi-Split Systems allowing up to over 200 possible combinations with ducted or duct-free fan coils.

Portland General Electric has chosen this ductless heat pump as a special offer to their customers. We are prepared to match PGE or any utility's offer price. for more details call 503-548-7013 for special pricing.
| | |
| --- | --- |
| | A number of Daikin products that are sold in North America are Energy Star® qualified. They are known for their outstanding energy conservation and performance. An Energy Star labeled product assures the customer that the system purchased meets or exceeds the Energy Efficiency Specifications and testing requirements of the ENERGY AR® program. It not only provides the homeowner with a more sustainable and environment friendly solution, but helps lower significantly their cooling and heating bill. |