Furnace Repair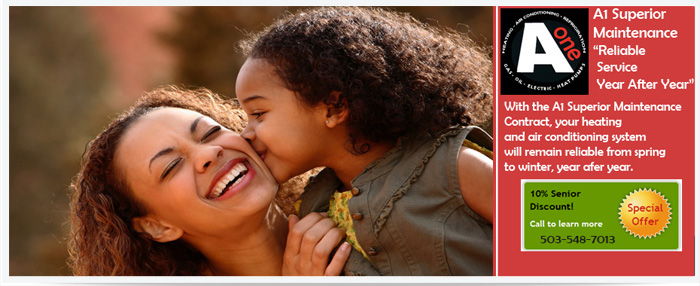 Furnace repair in Oregon and SW Washington
Your furnace keeps you warm in the winter months and is an important part of the comfort of your home. However, when not working correctly, your furnace can become dangerous to you and those you love.
Gas furnace repair is typically sought when your system stops functioning, leaving your Portland home or office icy cold during the winter months. While it would be easier if your furnace quit during summertime, the majority of repairs are needed during the winter.
Call 503.548.7013 for a furnace repair or submit an online quote request. A-1 Heating & Cooling representative will get in touch right away.
What Are the Telltale Signs Your System is Breaking?
Are there any hints or clues you can look for before your gas furnace completely shuts down? Portland homeowners should call a skilled heating and cooling professional if they experience these symptoms while running their gas furnace:
The furnace seems to be producing less heat
The pilot light goes out constantly or won't light
The thermocouple appears to be faulty
The pilot lights, but will not ignite the burner
One way you can avoid a complete gas furnace "meltdown" is to perform simple maintenance each month. This includes cleaning or replacing the air filter, clean the blower blades, lubricate the blower motor and inspecting the belt.
If you've performed monthly maintenance, but are still experiencing telltale "breakdown" signs, it's time to call a gas furnace repair specialist.
Find a Portland oil or gas furnace repair expert before a breakdown occurs – contact A-1 Heating & Cooling online or call 503.548.7013.
Gas Furnace Repair Specialists: A-1 Heating & Cooling
All furnaces need to be tweaked from time to time. Expert furnace repair from A-1 Heating & Cooling will save you huge replacement expenses and extend the life of your system.
Although some consumers attempt to perform their own gas furnace repair, it's always advisable to contact a professional instead. One reason is because you are repairing a combustible piece of equipment, which could be extremely dangerous if not handled properly.
Another reason is that not all repairs are alike. The combination of different elements, age of the furnace and the amount of wear and tear will dictate which type of repair plan is best.
For quality gas furnace repair done right the first time call A-1 Heating & Cooling at 503.548.7013. Our certified and trained technicians have over 30 years of combined experience, which makes us Portland's go-to gas furnace repair specialist.